Embrace the
Xceptional

Experience
Expect collaboration with a knowledgable partner
Demand responsive, flexible and capable IT support
Experience performance and issue resolution transparency
What Can Xceptional Security Do for You?
Organizations face ever-changing challenges in the wake of the pandemic that cause work setup flip-flops on a semi-regular basis. Planning for a future that includes advanced protections for remote, hybrid, and in-office work environments is a smart strategy.
However, don't bank on staying in business if your network runs on outdated technology and security. One of the easiest ways for your organization to go out of business is neglecting your network security.
Our Approach to Security
Failing to provide proper protection invites many problems and pain points into the fold:

It opens the floodgates to hackers, scammers, and criminals looking to infiltrate your network/
It makes it virtually impossible to protect your customer data and information.
It makes it very difficult to stay in compliance.
It puts your hard-earned reputation in jeopardy.

Protect your business by taking necessary precautions and employing top-notch security from Xceptional.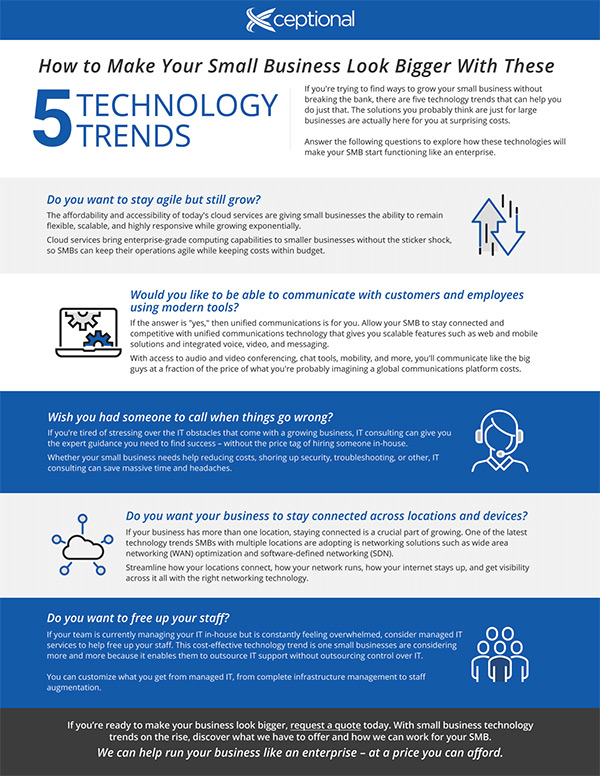 Do You Need Network Security?
Free Guide
The right IT partner can help SMBs keep up with today's evolving market. Find out if your organization could benefit from our Network Security
Experience Xceptional Value
Expect collaboration with a knowledgeable partner.
Demand responsive, flexible, and capable IT support.
Experience performance and issue resolution transparency.
Cookie-Cutter Security Solutions Won't Cut It
Set your business up for success by navigating security challenges with the right technology and security partner in your corner that's with you every step of the way. If your business can use a knowledgeable, security-experienced partner, experience the value of Xceptional today.

We ensure your protections are up-to-date by running regular updates. Get the most advanced security solutions possible – with the added benefit of 24/7 monitoring.

We utilize automatic patching to fix any vulnerabilities before cyber criminals have the chance to exploit them. You'll get an additional layer of security with the latest antivirus programs.
We monitor all devices that are connected to your network to ensure they are operating properly without any "health" concerns that may indicate foul play.
Get the
Technology, Security, and Support

You Can Depend on, Backed by Xceptional
Request a Security Risk Assessment