Embrace the
Xceptional

Experience
Expect knowledgeable, experienced IT staff
Demand resilient, consistent, innovative support
Experience greater savings and faster ROI
Utilize technology to unlock
business growth and expansion
Superior engineering to tackle business and IT demands:
Business expansion, IT, security, or compliance initiatives
Proactive security detection, alerting, and response
Cloud migrations and communications that accelerate digital transformation
Highly responsive support from IT experts that know your business
We understand every business has different IT needs. Our IT support management and solutions help San Diego businesses reframe the way they think about IT. Xceptional starts working instead of draining their resources.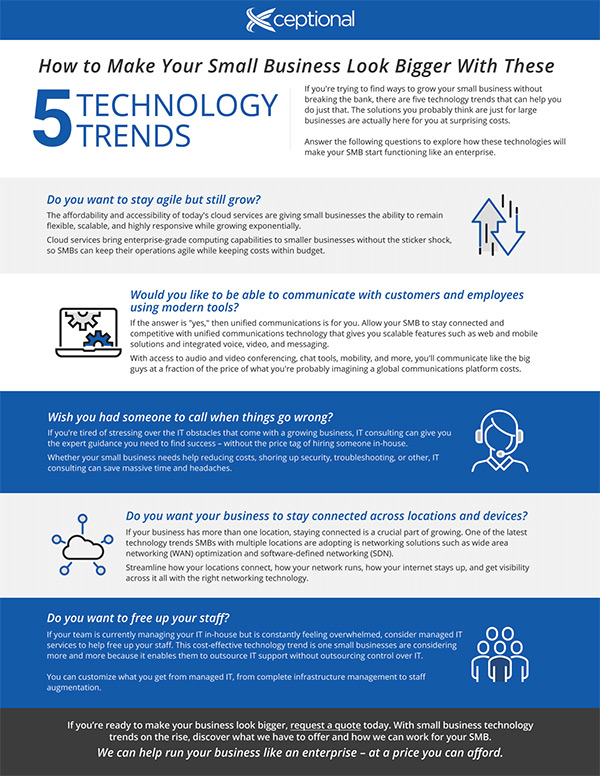 Do You Need an MSP?
Free Guide
The right managed services provider can help SMBs keep up with today's evolving market. Find out if your organization could benefit from an MSP.
Find Out How Businesses Like Yours
Stay Ahead of the Competition
Learn how real-life business have revolutionized more than just the way their technology works after offloading IT to us: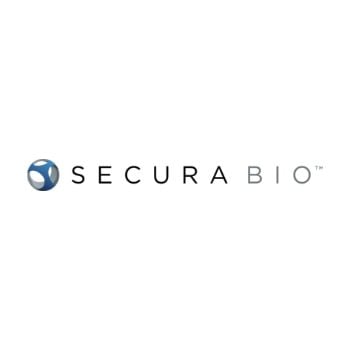 Secura Bio is a pharmaceutical company headquartered in Las Vegas, Nevada with corporate operations in San Diego. Since early 2019, the company has used managed services to:
Consolidate and centralize their entire IT department from scratch, including desktop, network, and wireless design, deployment, and management
Maintain a secure and scalable way to support their current and planned future growth and ensure their technology supports, not obstructs, their scalability
Without internal IT staff, Secura Bio also leverages our virtual Chief Information Officer (vCIO) services to work directly with their CFO to create strategy, budget, and address top-of-mind concerns such as security and business continuity.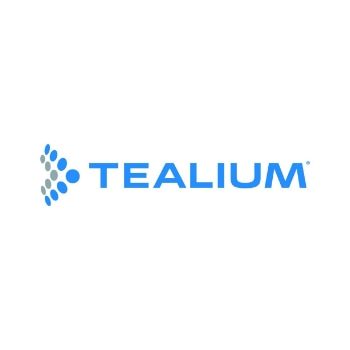 Tealium is a technology company headquartered in San Diego that has leveraged managed network and wireless services since 2015. Xceptional provides proactive and reactive network monitoring and support for Tealium– and works side by side with Tealium's in-house IT department.
Xceptional and Tealium recently partnered to reduce user connectivity issues from multiple complaints per day to virtually none by executing a wireless network upgrade.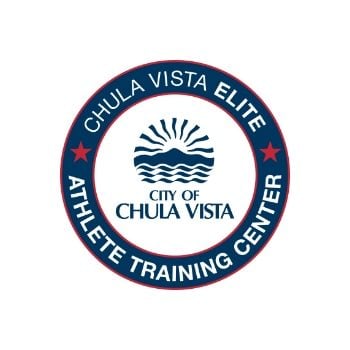 Chula Vista Elite Athlete Training Center is a US Olympic and Paralympic Training site which covers 155 acres of State of the Art Sports venues. Home to administrative, residential/hotel, and training space, CVEATC has a unique set of technology needs.
Xceptional partnered with CVEATC in 2017, and since that time has implemented wireless networking throughout the property, server and storage upgrades, a migration to Office365, and has served as their Managed Services provider and Virtual CIO.
Xceptional and CVEATC have worked together to centralize their desktop environment, as well as to strengthen and support their networking, server, and storage strategy.
Your Single Source for IT Support in San Diego
Managed IT
Choosing, implementing, and managing technology solutions is no longer your burden. Managed IT services covers every IT need you may have.
Data Center
Using the cloud and a broad array of data-center-grade IT software, services, and applications, we optimize your data center to improve its efficiency and agility.
Unified Communications
Collaborate on a new level and keep connected with conferencing and communications solutions that improve connection among employees and out to customers.
Network and WiFi
Keep your business connected, online, and secure with networking and WiFi solutions that ensure high speeds and scalable connectivity as you grow.
Consulting
Our expertise is your expertise. We're here to support you in any way possible with our team of experienced, knowledgeable consultants.
Get Back to
Running Your Business
Contact us for a customized IT solution that addresses your needs and fits your budget.
Learn the value of
Managed IT Services
Check out some of our free resources to learn more about Xceptional and our approach to managed IT services.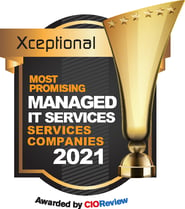 "Most Promising Managed IT Services Companies 2021"

Channel Futures:
MSP 501 Winner