Embrace the
Xceptional

Experience
Expect collaboration with a knowledgable partner
Demand responsive, flexible and capable IT support
Experience performance and issue resolution transparency
What Can Cloud Services Do for You?
Have you considered moving to the cloud? If not, you should because your competitors are most likely already there enjoying the tremendous benefits that cloud migrations deliver. Astute business leaders know the cloud is the future and you should make every effort to get there sooner rather than later. Xceptional provides advanced solutions that connect your business to the cloud – and it's these reliable digital experiences that will continue to drive your business forward.
Our Approach to Cloud Services
Infrastructure - our partnerships with a wide variety of manufactures (such as Cisco, Fortinet, Palo Alto, and more) enables us to provide a unique blend of cloud and managed services with premise-based solutions that's best suited to our clients' needs
Desktop as a Service – DaaS delivers heightened security to protect your customer data and applications as they reside in the cloud.
Disaster Recovery as a Service – If a disaster were to strike, our engineered, pre-built, virtual environment can recover your data while servers reconfigure the information in a matter of hours.
Backup as a Service – You can easily access your latest backup that's protected by encryption and hosted in an offsite cloud repository.
Storage Solutions – You can easily streamline and organize your data that's housed by our scalable infrastructure.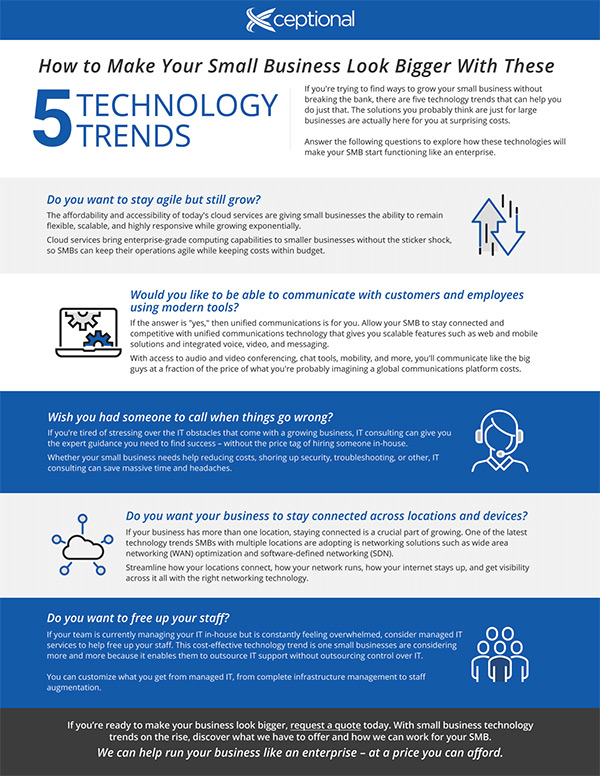 Do You Need Cloud Services?
Free Guide
The right IT partner can help SMBs keep up with today's evolving market. Find out if your organization could benefit from our Cloud Services
Experience Xceptional Value
We know the IT industry, and we want to use our expertise to help your business grow.
Embrace the Xceptional experience today.
Embrace the Power of the Cloud and Grow Your Business
Growing your business can be tricky, especially if you fail to regularly upgrade your infrastructure and technology. Think of your business performance as a racecar. The fresher the engine and tires (infrastructure), the better the acceleration and grip (technology). Keep your business driving in the fast lane with Xceptional cloud migration services.

Quickly adapt to business changes, accelerate future growth opportunities, and meet or exceed your on-premise solutions still in the fold.

Simplify your desktop management and do more with less.

Gain greater flexibility and efficiency via virtualization while lessening reliance on manual, time-consuming backups and restoration processes.
Send your backups offsite more quickly with minimal data transfers while maximizing restore points.
Get more storage solutions that fit your needs and budget.
Trust
Xceptional Cloud Solutions

to Keep Your Business Moving Forward
We're here to make sure your IT works for you at a price that fits your budget.