Embrace the
Xceptional

Experience
Expect collaboration with a knowledgeable partner
Demand responsive, flexible and capable IT support
Experience performance and issue resolution transparency
What Managed IT Services Can Do for You
In today's highly competitive, always-on world, your business and employees need access to systems, networks, applications, and devices that are stable and always available. Finding the "right" managed services provider (MSP) can be long, complex, confusing, and filled with risk.
You deserve a highly responsive, proactive MSP that's there for you when you need them the most. From cloud-based backup and recovery solutions to 24/7 remote monitoring and management, your MSP should deliver the types of IT services you need to help your business grow. These comprehensive solutions are custom-built to help you streamline operations, secure your network, and more to ensure you stay ahead of the technology curve.
If you're seeking knowledgeable, consistent, and superior managed IT solutions, experience the value of Xceptional today.
Our Approach to Managed IT Services
Most customers choose to work with Xceptional because their previous providers:
Lack attention to detail
Over promise and under deliver
Have poor customer service or response time
Are not transparent about what services they're delivering
Don't provide sufficient security coverage
After embracing the Xceptional experience, customers realize:
Greater value
A faster return on technology investments
Always-on IT support from a friendly, knowledgeable team
Superior technology solutions
Gain access to advanced IT solutions, including security, WiFi, data networks, software as a service, phone systems, servers, desktop solutions, and storage – all backed by our responsive onsite and remote support.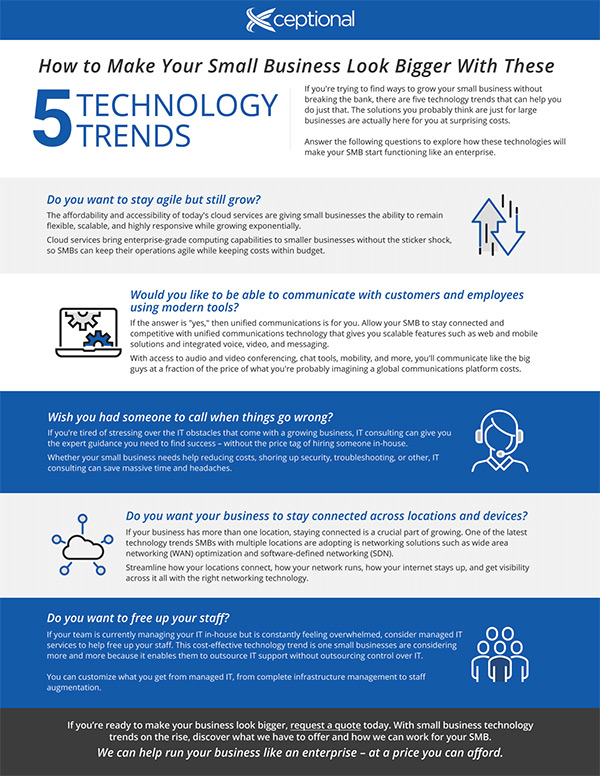 Do You Need an MSP?
Free Guide
The right managed services provider can help SMBs keep up with today's evolving market. Find out if your organization could benefit from an MSP.
Experience Xceptional Value
We know the IT industry and want to use our expertise to help your business grow. Embrace the Xceptional experience today.
Comprehensive and Custom-Managed IT Services That Fit Your Organization's Needs
Whether you need to supplement your existing staff or an IT management partner for all of your technology needs, our remote monitoring and management services cover every IT facet.
Our services include:
Complete infrastructure management support – both remote and locally – to support your business and information technology needs
24/7 monitoring to address network issues before downtime occurs and access to live engineers for expert technical support
Cloud computing integration and implementation to modernize your operations and make your business more productive
Backup and recovery solutions to protect your critical systems and data in case of an emergency or ransomware attack
Cyber security technologies, assessments, testing, break/fix support, vulnerability remediation, and managed security services to reduce risk and threats proactively
Capacity planning to scale your technology and solve problems before they arise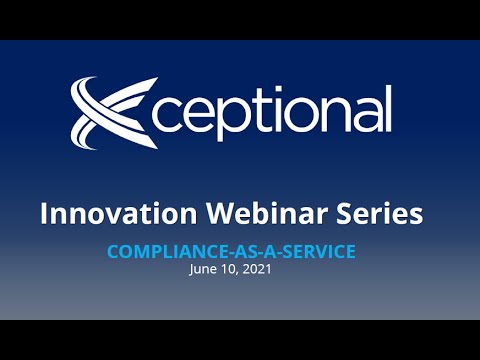 Recorded Webinar
Xceptional Innovation Series: Compliance as a Service
Learn how Compliance-as-a-Service can help you reduce the risk, cost, and time associated with meeting regulatory changes.
Get the Support You Need…

and All the Equipment, Too!
You no longer have to worry about maintaining tons of equipment with cloud environments and apps. This flexible solution gives you:
A clear, understandable billing schedule with predictable monthly costs.
The ability to accurately anticipate expenses helps you make room in the budget to future-proof your business.
The built-in ability to scale up or down.
Unexpected circumstances can occur at any time. Quickly adapt to whatever scenario comes your way with our scalable services.
No comparison shopping.
When you know you have the best possible pricing for the best-fit solution, you've not only saved money – you've freed up your time.
Our Managed IT Services
Pricing Models
IT should work how you want it to – at a price that fits your budget.
Best for companies with a small number of end-user devices
Offers flexibility by paying to monitor specific devices and fix issues
Risk leaving potential security gaps if coverage is not all-inclusive
May not be cost-effective if employees have several devices each
User-Based Pricing
All-inclusive with monitoring and maintenance
Includes comprehensive onsite and remote support
Makes it easy to add new employees by simply adding a user
May cost more if you decide to use your own cyber security platforms
Check out our Device-Based vs. User-Based Pricing infographic to learn more.
Everything

You Need to Know

About Managed IT
Managed IT brings efficiency, productivity, and better revenue to businesses like yours. Here's how:
Prices range according to how much technology we'll be managing for you as well as your business size.
As an example: a small business with 20 employees can get monitoring, service, and support for desktops/laptops, phones, servers, network, and WiFi for around $2500/month. This includes unlimited service tickets Monday - Friday from 7am - 6pm with on-site San Diego managed IT assistance included if needed.
By contracting with Xceptional for managed services, you receive a host of benefits that includes:
Proactive monitoring and alerting (we will tell you your network is down before you even realize it – and already be started on a fix!)
Contracted response time (managed services clients always go to the front of the line!)
Virtual Chief Information Officer services
Xceptional was founded in 2007.
We've worked with companies in the financial, medical, hospitality, biotech, and government verticals – to name a few. We're always happy to provide references upon request.
Xceptional provides:
Proactive monitoring and alerting
Reactive and emergency response for desktop and applications, networking and wifi
Unified communications and collaboration tools (basically anything that you use to communicate!)
Servers and storage
Mobile device management.
Our Silver, Gold, and Platinum levels include Virtual Chief Information Officer (vCIO) and procurement assistance. Additionally, should you choose to use Xceptional to perform services outside of the scope of your managed services contract, you will receive a contracted discount rate.
For example, if you signed an MSP contract with us for your phones, but you need to do a server refresh, this project wouldn't be covered under your contract because it's solely for your phones. However, we would give you a discount for the server work because you have an MSP contract with us.
To proceed, we would provide a quote detailing the costs, discount, and scope of work for the server refresh. All it would take to get this started would be you informing us that you need help outside their MSP contract.
Our help desk team is headquartered in San Diego and staffed with full-time employees of Xceptional. At times, we may leverage tried and true expert consultants for highly specific tasks, but you can rest assured that our core team consists of Xceptional employees.
Xceptional employs a team of tier 1, 2, and 3 engineers dedicated to reactive and proactive service tickets. Additionally, we leverage architect-level engineers that specialize in network, servers, storage, and collaboration for design consulting and specialized escalations.
Our on-boarding process is customized to your specific environment and factors and includes the following:
An extensive discovery and documentation review process
Validation and creation of documentation needed to support your environment
On-boarding of asset tracking and license management
A dedicated project manager and technical lead
A typical onboarding process takes about 30 days, although this varies depending on the scope of services provided and the size and complexity of your environment.
During the onboarding process, your project manager will discuss your options for handling requests that come in outside your contracted Period of Maintenance (POM). Xceptional has engineers available around the clock to respond to time-sensitive or emergency issues.
During your contracted Period of Maintenance, you can submit unlimited requests for assistance for items within the scope of your contract. You are not billed by number of requests, phone calls, or emails. The only time you will be billed is if you require assistance outside of your contracted POM, or request assistance that is not covered under the scope of your managed services contract.
An example would be if you need help with your phone system and are only contracted for network support. We can help, and this assistance would be billed at the contracted discount rate.
We LOVE working with our client's IT departments! We can function either as a totally outsourced IT model or as an extension of your current staff. Either way, you have access to a bench of dedicated engineers with expertise in all areas of IT.
Our clients benefit from our extensive experience – if you are encountering a problem, chances are we've seen it before and can help you find the most efficient (and budget sensitive) solution.
The short answer: most of them! Whether you are an SMB that is just starting to build your technology strategy, an organization that is unhappy with your current provider, or a large business that needs to outsource a specialized portion of your IT management, Xceptional can build a plan that works for you.
Learn the Value of Managed IT Services
Check out some of our free resources to learn more about Xceptional and our approach to managed IT services.
Ready to Get Back to
Running Your Business?
Embrace the Xceptional experience today to get more out of your IT and cloud environments – and get back to supporting projects that grow your business instead.