Embrace the
Xceptional

Experience
Expect collaboration with a knowledgable partner
Demand responsive, flexible and capable IT support
Experience performance and issue resolution transparency
What Can Unified Communications Do for You?
Today's workforce demands the flexibility to work from anywhere – with the same capabilities and ease of use that are available to employees in the office. The ability to collaborate effectively is essential for your organization's productivity and your workers' morale.
Your customers, in turn, expect to reach your business by the means they prefer, whether that's voice, chat, or SMS. When you leverage Xceptional for unified communications, you'll get the customized solutions you need and experience a clear return on your investment.
Our Approach to Unified Communications
Are you tired of working with providers who:
Don't try to understand your business?
Offer no transparency into issues, service and support ticket status, operating procedures, or overall performance?
Deliver poor service or response time?
Overpromise and under-deliver?
With Xceptional, you can embrace the fact that your business demands more transparency, collaboration, and responsiveness from your managed services provider. We recognize that a "one size fits all" support model won't address your business requirements or expectations – that's why we're dedicated to identifying and understanding the impact of your business communication needs so that we can find the best-fit solution.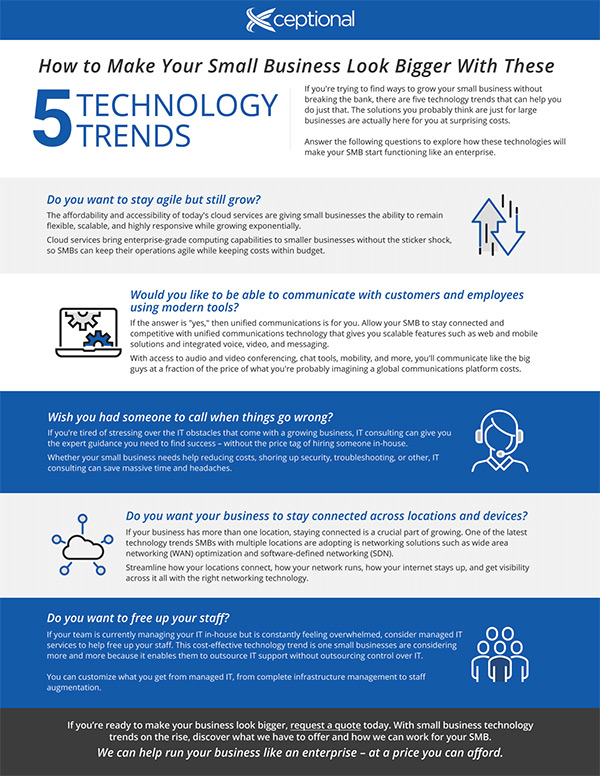 Do You Need an MSP?
Free Guide
The right IT partner can help SMBs keep up with today's evolving market. Find out if your organization could benefit from an MSP.
Experience Xceptional Value
We know the IT industry, and we want to use our expertise to help your business grow.
Embrace the Xceptional experience today.
We don't offer one-size-fits-all unified communications services.
Get the value you expect and deserve from Xceptional.
Powerful audio, video, and web conferencing solutions that allow your employees to communicate with customers and collaborate internally from wherever they are.

Mobile-friendly platforms that deliver voice, video, and other communications capabilities to any desktop, laptop, or mobile device ensure your whole team has access to the same functionality.

Solutions that integrate with your business's existing applications help you streamline workflows, gain efficiency, and maximize the value of all your IT investments.
Get Started With Flexible, Customized Xceptional Unified Communications
We're here to make sure your IT works for you at a price that fits your budget.