Embrace the
Xceptional

Experience
Expect collaboration with a knowledgable partner
Demand responsive, flexible and capable IT support
Experience performance and issue resolution transparency
What Can Network & WiFi Do for You?
You shouldn't have to settle for possibilities. Providers worth their salt won't try to sell you on empty promises and outlandish claims, especially where technology is concerned. Xceptional delivers tried and true networking solutions that connect your business to anyone, anywhere, on any device – and it's these reliable and secure connections that will continue to drive your business forward.
Xceptional's Approach to Service:
Routers and Switches – We install seamless, secure, reliable network solutions that can be scaled to meet the needs of your business.
Wireless Solutions – Gain agility for your mobile and remote workers via a wide variety of wireless network solutions and applications.
Security Solutions – We can reduce the cost and complexity of your security with an architectural and systems-based approach that protects your assets and empowers your workforce.
WAN Optimization – We can improve your network speeds, without increasing monthly costs, while providing secure protections that cover your campus, data center, and branch office locations.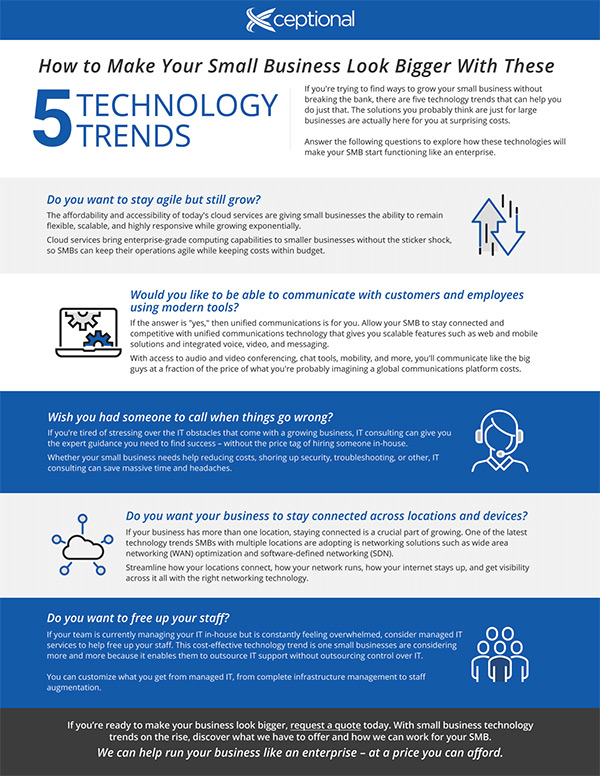 Do You Need Network & WiFi?
Free Guide
The right IT partner can help SMBs keep up with today's evolving market. Find out if your organization could benefit from Network & WiFi
Experience Xceptional Value
We know the IT industry, and we want to use our expertise to help your business grow.
Embrace the Xceptional experience today.
Turn Potential Into Actuality
We don't offer cookie-cutter solutions designed to cover a multitude of businesses. Your business is one of a kind – and we create a unique, customized solution that only fits the needs of your organization – not someone else's.

Integrated technology speeds up access to information, enhances customer service, and reduces operating costs.
Mobile platforms allow your work teams to access information, customer data, and files from any device and from any location quickly.

Security measures protect your networks, email, and websites while keeping you in compliance.

Optimizing your networks enables faster bulk data transfers, improves response times for interactive databases, and reduces bandwidth costs.
Ready to Get Back to
Running Your Business?
Rely on Xceptional to Keep Your Customers & Teams Connected